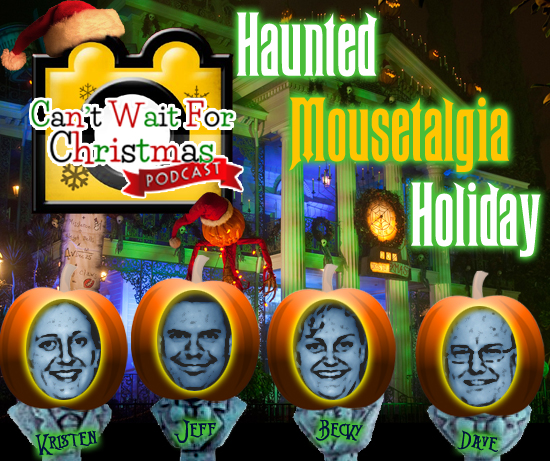 The cast of Mousetalgia joins the show to talk about Disneyland's Haunted Mansion Holiday! You'll also have a chance to win a prize from the Can't Wait For Christmas Podcast store, hear how to mix some Christmas into your Halloween, and we get closer to solving the Great Die Hard Debate.
For your chance to win, remember to post a link to your favorite episode on Twitter and tag us "@ChristmasPod" or on Facebook and tag our Facebook Page and include #CantWaitForChristmas. If you've left or want to leave an iTunes review, that is also a way to enter. You just have to email us at Christmas(at)Tancast.com to tell us which review is yours. (Put "iTunes" in the subject line).
One winner will receive a customized Christmas ornament form the Can't Wait For Christmas Zazzle Store. Five (5) runners up will receive a tin of hot cocoa mix. Contest is open until November 20th, 2017 and winners will be announced on the November episode. GOOD LUCK!!!
00:00 – 01:37 Intro
01:37 – 02:42 We Need a little Christmas now
02:42 – 09:02 Five Golden Things (Christmas Smells)
09:02 – 15:20 Moustalgia Interview
15:20 – 24:37 Dave and Becky's 5 Golden Questions
24:37 – 55:56 Haunted Mansion Holiday Discussion
55:56 – 60:21 Is Die Hard A Christmas Movie?
60:21 – 62:48 Wrap Up/Who Sang It Best Results
62:48 – 66:32 Outtakes
"We Wish You A Merry Christmas" United States Marine Band
"Jingle Bells" Performed by Kristen Nowicki
(The embedded player for the episode is bellow all the links)
Tim Babb at "Silly Pills" at 88 Keys In Morgan Hill, CA on November 1st
http://www.88keyscafe.com/
Tim Babb at Rooster T. Feathers with Shane Torres (Nov 2 – 5)
http://roostertfeathers.laughstub.com/event.cfm?id=494251
Pumpkin Snowman Craft by Garden Answer
https://www.facebook.com/CantWaitForChristmasPod/posts/1955814374658298
All The New Products Mentioned in 5 Golden Things
https://www.zazzle.com/collections/as_heard_on_cwfc_episode_29-119604905382153444
The Mousetalgia Podcast Official Site
http://www.mousetalgia.com/
Jeff's Book About the Haunted Mansion
https://www.amazon.com/Unauthorized-Story-Disneys-Haunted-Mansion/dp/1941500080
More Info on Haunted Mansion Holiday from Doom Buggies
http://www.doombuggies.com/holiday1.php
Podcast: Play in new window | Download